NYBL ALUMNI FINDING FOOTING IN THE NBA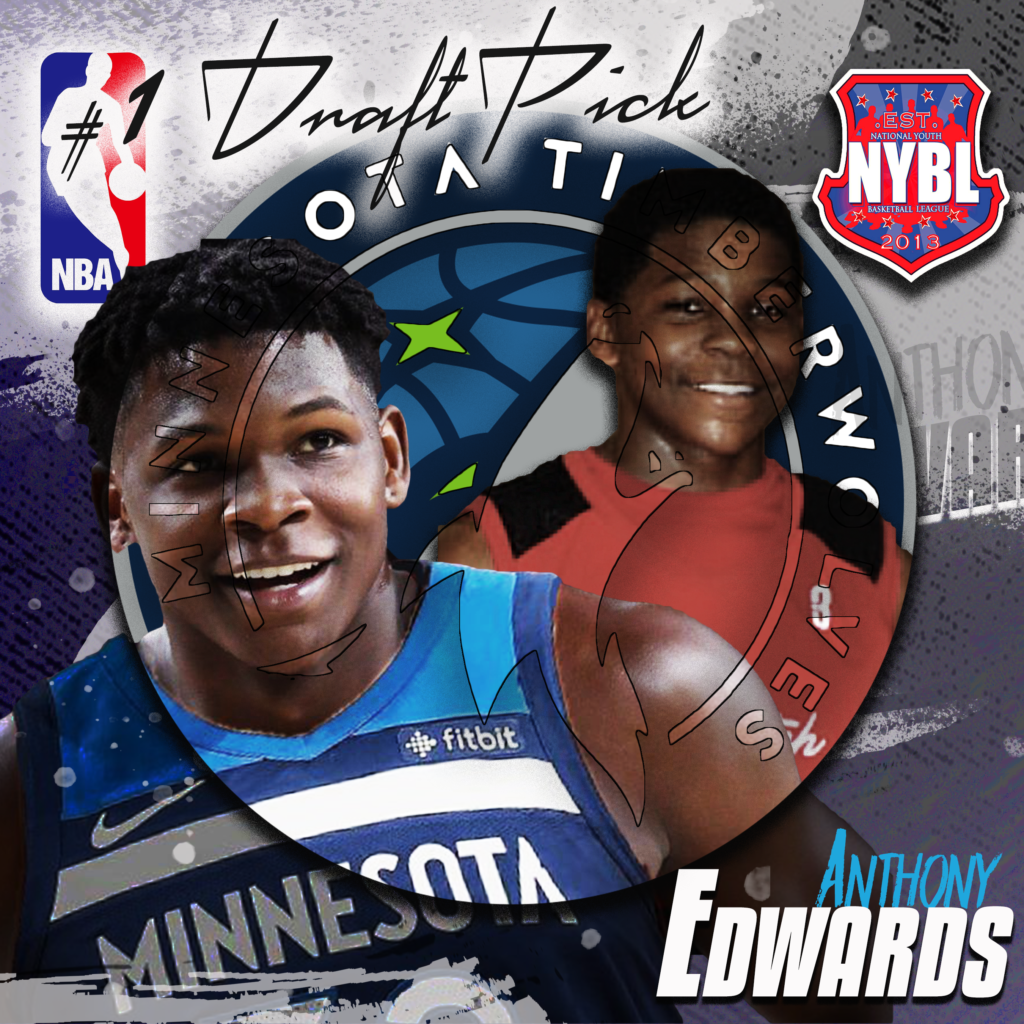 The National Youth Basketball League has enjoyed eight years of tremendous success. The league has expanded from a twenty four 6th grade team league circuit with three sessions, to a nationwide basketball tour for 4th grade through 10th grade travel teams in twelve locations. The NYBL has a rich history of producing some the best talent in North America.  In an effort to highlight some of the rich talent that has taken part in the NYBL. We are proud of our NYBL Alumni who were recently drafted in the 2020 NBA Draft.
Anthony Edwards  
Edwards was selected as the number one pick in the 2020 NBA draft by the Minnesota Timberwolves. He played college basketball at the University of Georgia (Bulldogs) where he averaged 19.1 points, 5.2 rebounds, and 2.8 assists per game. Listed at 6 feet 4 inches, the Atlanta native is an elite athlete with an explosive first step. He was rated as a five-star recruit and a 2019 McDonald's All-American.  
He attended Holy Spirit Preparatory School in his hometown of Atlanta. He also started at the middle school level playing for Southern Stampede (6th grade) and TNBA (7th grade) during his two-year stint in the NYBL. Although he was not very big, measuring at 5'11" around that time, Edwards was still able to show those same flashes of elite athleticism in the NYBL.     
Edwards is currently averaging 12 points, 3 rebounds and 2 assists through 13 games with the Timberwolves. 
"Edwards was a physically gifted player at a young age and has overcome tremendous obstacles to reach this level. We noticed his athleticism and physical nature early and thought that he would grow into the player that he's become. His football background is evident as his aggressive style is a coveted quality at the highest level. It proves the point that young players shouldn't look to specialize too early. Edwards didn't and he became the number one pick in the NBA Draft." – NYBL Staff.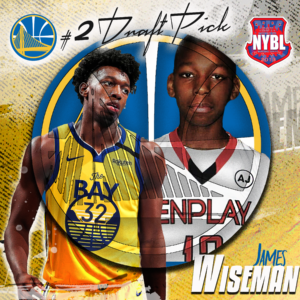 James Wiseman 
Wiseman was selected second overall by the Golden State Warriors. The 7 foot offensively versatile center was highly touted coming out of high school. He was considered by many publications the number one overall recruit from Tennessee. Wiseman played collegiately for the University of Memphis, where he averaged 19.7 points and 10.7 rebounds per game. He was a starter on the travel circuit for team EN-Play Elite in the NYBL. 
Wiseman is currently averaging 11 points, 6 rebounds, and 1 block per game throughout his 14 games with the Warriors. He recently had a career high of 20 points against the San Antonio Spurs.
 "Wiseman who played in the NYBL during his 7th grade year was listed at 6'4" and has since grown to become a legitimate 7 footer.  His pace and ability to play in transition were his most noticeable skills then with an evolving face-up game. He was also an active offensive rebounder.  His agility and wiry strong frame were also on full display during his days in the NYBL. Wiseman benefitted greatly from his somewhat late growth spurt. " – NYBL Staff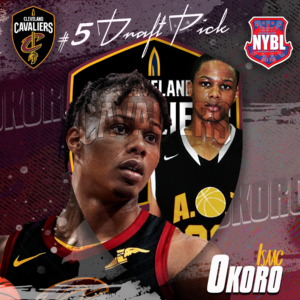 Isaac Okoro 
Isaac was selected fifth overall by the Cleveland Cavaliers. He is a gifted physical specimen listed at 6' 5", 225 pounds, and known for his athleticism and elite defensive prowess. Okoro played college basketball at the University of Auburn (Tigers) averaging 12.9 points and 4.6 rebounds per game.  Isaac was born and raised in Atlanta playing high school Basketball for McEachern in Powder Springs, Georgia. Okoro was a consensus top 35 player nationally. 
Okoro garnered national attention while playing on the summer circuit with AOT Running Rebels at the NYBL. AOT was an independent team playing in the NYBL before moving on the NIKE sponsored circuit and becoming one the brands signature teams.
Okoro is currently averaging 9 points, 2 rebounds, 2 assists and 1 steal through nine games and has also started all nine games.
"Okoro has been and still remains one of the most versatile players to ever play in the NYBL. Okoro who played at about 6'3 during his time as an 8th grader on the NYBL circuit was effective on both ends of the court.  He showed a natural defensive prowess whether he was guarding an elite athletic wings or a "taller than a statue" post player. Offensively, he was tremendous in transition playing along side wunderkind point guard Sharife Cooper (Auburn). His work ethic and instincts are very rare, and despite not being named to the McDonald's All-American Game, we knew Okoro would be a high first round pick for all the attributes he showed early in the NYBL." -NYBL Staff
Precious Achiuwa  
Precious was selected twentieth overall by the Miami Heat. He is a versatile combo forward with great positional size and wingspan for his position. He was born in Nigeria and raised in New York before heading to Montverde Academy Prep in Florida. He then played at the University of Memphis (Tigers) where he averaged 15.8 points, 10.8 rebounds, and 1.9 Blocks per game. Achiuwa was also a 2019 McDonald's All-American and top 20 recruit. 
Achiuwa is currently averaging 8 points, 6 rebounds, and 1 assist while shooting a lofty 62% from the field through 13 games. 
"Achiuwa was a standout for the New Heights program during his one year in the NYBL. Achiuwa was an extremely high-energy player for the New York based program. One of the most fluid young bigs we've ever seen. His ability to move defensive against guards was a special trait. Big-time paint finisher." – NYBL Staff
Tyrese Maxey 
Maxey was selected with the twenty-first pick by the Philadelphia 76ers. He is well known for his explosive shooting ability and quickness off the dribble. Maxey played his college ball at the University of Kentucky (Wildcats) where he averaged 14 points, 4.8 assists, and 3.0 rebounds per game.  
Maxey was a Texas product from South Garland High School in Garland Texas. Maxey was a 2019 McDonald's All-American and Texas Mr. Basketball. He played on the NYBL circuit for three years. He played one season with Deron Williams Elite (6th) and two seasons with Texas Express Elite (7th & 8th). 
Maxey is currently averaging 11 points, 3 rebounds and 2 assists through 15 games. Maxey had a 39-point explosion earlier this season – the most points by a rookie since 1970.
"During his days in the NYBL, Maxey entered as a 5'5" 6th grader and finished as a 5'10" 8th grader (he was 5'9" as a 7th grader). One of the first things that was noticeable all three years was his ability to get downhill and score the ball. His aggressive style lead to plenty of big-time wins for his team. He showed great speed and creativity at a very young age. Those were things that he was able to do despite his height. He teamed with Chris Harris, Jr. (Oklahoma State) and De'Vion Harmon (Oklahoma) to form arguably the best backcourt in the NYBL's eight year history." -NYBL Staff
Vernon Carey 
Carey was selected with the number thirty-two pick by the Charlotte Hornets. Vernon is a sweet shooting big man with deep range and a soft touch on the inside. Carey played College Basketball at the University of Duke averaging 17.8 points, 8.9 rebounds, and 1.6 blocks per game. He was a McDonald's All-American and a top 20 recruit born and raised in Fort Lauderdale, Florida. Carey played at the University of Nova Southeastern. He played on the circuit for Team Florida in the NYBL. 
Carey is currently averaging 1 point,  and 1 rebound in a limited role with Hornets. He has played in three games.
"Vernon played on the tallest and one of the most talented teams in NYBL history. He teamed with Balsa Koprivica (Florida State) and Chol Marial (Maryland). Both players were over 6'9" as 8th graders. Carey was about 6'5" and looked destined for stardom on the professional level, only we'd thought that being doing it as a left tackle in the NFL. Carey's combination of strength and agility were apparent early." -NYBL Staff
Nico Mannion 
Mannion was selected forty-eighth overall by the Golden State Warriors. Mannion attended the University of Arizona where he averaged 14.0 points and 5.3 assist per game. Mannion is a gifted passer and playmaker with the ability to score when needed. He is from Salt Lake City, Utah and played for the Arizona Monsoon in the NYBL. 
Mannion, who signed a two-way contract with the Warriors, is expected to spend the majority of his time this season with their G-League Affiliate the Santa Cruz Warriors in 2021. The bubbled-style G-League is set to begin play in February in Orlando. 
"Nico is an ultra competitive guard who actually hails from Utah, but has made the move to the Arizona based Monsoon for the increased competition level the Monsoon face. He is capable of playing either of the guard spots with an array of position specific skills and understanding. As an off-guard, Nico is a lights-out shooter, possessing a quick release and deep range.  He has the floater in his game when defenders look to close out on his jumper and he has deceptive quickness that leaves would-be defenders in the dust.  Mannion can slide to the point guard position as well; there he shows the knack for involving his teammates and making the right basketball play every time down. His composure and savvy play will make him a much-sought after prospect in time, not to mention he is the son of two former high level athletes who stand 6' 2"(mom) and 6'7" (father). He's a long –term hit!" 
These are the exact words the NYBL wrote on Mannion in 2013. Because of all the qualities we expressed about the younger Mannion we feel will ultimately lead to a big role on a NBA roster.
Independent Hoops and The Run Sports are excited to announce a new partnership that will give student athletes more exposure. Independent Hoops experience hosting the best elite youth events and The Run Sports high-level scouting service gives athletes a better opportunity to high-level exposure. The first official spring event starts on March 6, 2021, in Manheim, Pennsylvania. 
The Run Sports by Alfred's House scouts and evaluates student athletes and matches them with the appropriate basketball program and college. The Run Sports have an enormous network of college connections at every level.
Independent Hoops operates the Lineage of Champions Independent (LOCI) and National Youth Basketball League (NYBL). These events are well known throughout the country for competitive basketball. The Independent Hoops events attract some of the most talented student athletes in the country that have gone on to star at the collegiate level before getting drafted into the NBA.