OLD NAMES, NEW FACES EMERGE AT ICEBREAKER INVITATIONAL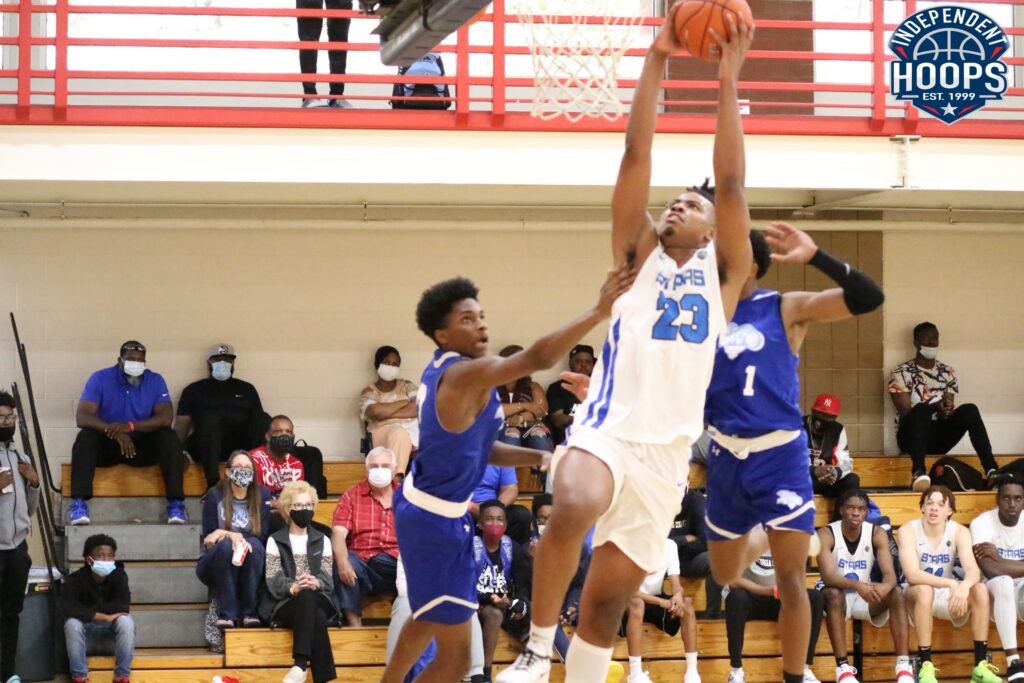 This year's tournament marked the 20th edition of the storied and always talent –laden Icebreaker Invitational. The Icebreaker is a spring southern tradition like no other. Well, maybe The Masters golf tournament is comparable. All comparisons aside, the Icebreaker Invitational has become known as a place where traditional southern powerhouse programs like the Georgia Stars, Team Charlotte, Team South Carolina and Team Wall come to find their mojo heading into the travel season. It is also where under the radar teams and players rise up and pronounce their emergence to the region, and in some cases, the country. Here's a look at some of the top standouts and some under the radar players that caught our eye:
Trey Green – (5'11 / PG / Team Charlotte / 2023) Who better to develop your point guard skills from than a former High School All-American, Power 5 standout and multi year NBA vet – Coach Jeff McInnis? Well, Trey Green has chosen just that. McInnis has some very recent success in developing shifty point guards (See Devon Dotson for results). Green was quite simply sensational in Team Charlotte's dismantling of the Georgia Stars in the 17U Championship game. Green's ability to get downhill and apply constant pressure on the front and back lines of defense is special. His physical tools include a solid frame with both upper and lower body strength. He's crafty with his handle and can finish with either hand through traffic. Green teams with 2023 wunderkind Mikey Williams at Lake Norman (NC) Christian School to form one of the nation's top underclassmen backcourts. If the Icebreaker is any indication, Green will find himself among the best in nation – very soon.
Perry Smith Jr. (6'9 / PF / Georgia Stars / 2022) – Smith Jr., a South Carolina native, recently picked up an offer from new Boston College coach Earl Grant. Grant recently departed the state of South Carolina as head coach of College of Charleston and appears to be making plans to become a regular visitor for the sole purpose of securing the budding star in Smith. Smith already possesses the stature of a high major power forward with his 230lb frame. He showed strong inside play and rebounded well in several viewings. His mobility and active motor will give him an opportunity to contribute right away at the right college program.
Savion Brown (6'0" / PG / Team South Carolina / 2022) – Can we say the Palmetto State is a hidden gem for under the radar guards? We can! Savion Brown will only add to our theory. The shifty penetrating point guard is a wiz in the open court. He's a tremendously quick penetrator who scores from all over the court. His ball handling and court vision are exceptional. Savion has a nice looking pull-up jump shot as well. Don't let the small frame fool you. This young man is REAL! This will be an alumni of the Icebreaker that will be following quite closely.
Kion Hayes (6'2" / CG / Florida Dream / 2022) – Many may not know his name as Hayes doesn't play for a national level high school or club program, but the 6'2" combo guard is displaying a lot of traits and characteristics of a clutch performer. Hayes scored on a baseline floater in overtime to give his Dream team an overtime win over Grassroots NC Gold in early pool play action. Despite the Dream not advancing into bracket play, Hayes was impressive with his effort and IQ. Hayes has the make-up of a college contributor. While we don't project him as a High Major prospect, his intangibles (leadership, basketball IQ, coachability) will keep college programs intrigued and should land him on college roster in time.
Jabare Perry (6'9" / PF/C/ Team Wall / 2022) – Any program in search of an interior presence that impacts winning – look no further than Perry. Rebounding at a high level is what separates him from most. He rebounds out of his area well and appears to mentally claim EVERY rebound at the release of EVERY shot. When he's not rebounding on the defensive end, he's blocking or contesting every shot attempt at the rim. A defensive rebounder and rim-protector – who doesn't want those attributes? This is not even where this young man's game ends. He is a steady offensive threat and strong finisher around the rim. He is also mobile and showed the ability to stretch the floor with a solid mid-range game. He showed well in the transition game and was an active flasher throughout the Icebreaker. The Team Wall forward has very good hands for a big too. Look for Perry to command Mid-Major attention as college programs dig deep into the 2022 class. We like this kid – A LOT!
Karon Boyd (6'5" / SF / Charlotte Hoyas / 2022) Boyd is a high motor, high energy athletic forward prospect that colleges covet for the intensity level and ability to affect the game in multiple ways. Boyd has the ability to be an outstanding transition player due primarily to his above average athleticism. However, what may ultimately be Boyd's landing card to a college program is his multi-positional defensive potential. We witnessed Boyd guard both guards and post throughout the weekend and he was able to hold those positions in check. The Charlotte Hoyas may not be a household name just yet, but Boyd (along with some very talented teammates) may be looking to change that narrative this summer.