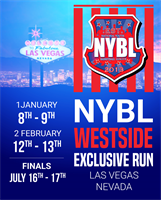 NYBL Westside Exclusive Run
Tarkanian Academy, 2730 S Rancho Dr, Las Vegas, NV 89102
The NYBL Westside Exclusive Run will take place January 8-9, 2022 in Las Vegas, Nevada! The Westside Exclusive Run will provide a platform for travel teams to showcase and compete against the state, region and nation's best.
The Exclusive Run will also provide local, regional and national scouting services and ranking service outlets an early look to see who are break out teams and players for the 2021-2022 basketball season. We will finish the tournament mid-afternoon on Sunday (5pm). Teams from throughout the West will once again descend on Las Vegas to play against the best and enjoy a weekend of competitive basketball.
We will have video streaming for ALL games . Don't Miss This Exclusive Run!
REGISTRATION CLOSES DECEMBER 24TH
DIVISION: Boys 5th-8th Grade Teams
TEAM REGISTRATION FEE: $1000
The NYBL makes traveling seamless for our teams and out supporters. We have partnered with Hotels4Teams to give your team the best hotel experience by providing you with quality accommodations that are easy to find and easy to book.
Click the link below to find your tournament rooms!
NEAREST AIRPORTS: McCarran International Airport, 5757 Wayne Newton Blvd, Las Vegas, NV 89119
GENERAL ADMISSION: General Admission is available online only. Please click the link to purchase your tickets. NO CASH AVAILABLE AT THE DOOR.