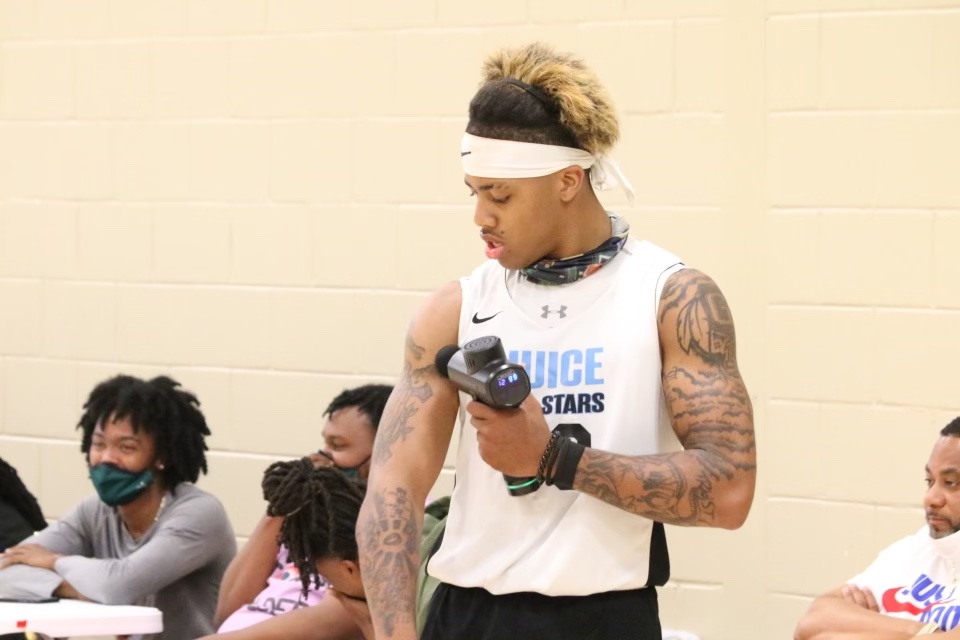 Juice All Stars Stephenson (Raleigh, NC) made their way south this past weekend (April 23-25) and rolled through the competition at the Battle of Best Augusta. Juice was red-hot all weekend as they went 5-1, only losing to Team We It (Mississippi) Saturday in pool play. They would later avenge that lone lose by beating Team We It in the semifinals on Sunday. JUICE went on to win the 17u Championship in a tightly contested matchup against Southern Kings (GA). 
JUICE has a plethora of talented players, but are led by 6'8" twins: Kenechi & Kanayo Nwosu. The Nwosu twins are riding high off their recent commitment to Barton College (NC) and flying high on the court as well. Kenechi had it working for him offensively; He has good face-up skills and looks to dunk everything when attacking the rim. He showed the improvement in his jump-shot, as he shot it really well from behind the arc. Kanayo was a little more reserved offensively, but had several rim rattling dunks. He impacts the game in a huge way on the defensive side of the ball. He has a great feel for the game and his motor never stops running. The intangibles that college coaches look for are there with this young prospect.
JUICE combo guard (6'3") Sayvion Ellis had a "breakout" weekend at the Battle of Best Augusta. The first thing you notice about Ellis' is his stocky (football like) stature. Looking at his build you wouldn't expect for him to be as skilled and as savvy as is. Ellis' showed that he can really shoot the ball from deep, and he locked up on defense – guarding the opposing teams' best players often. He has the ability to handle the rock, push the ball in transition, and even create for others. Expect his stock to really take off after his strong performance this weekend. 
Several other guys made key contributions for JUICE on their championship run at the Battle of Best Augusta. Coaches from all levels make it a point to see these guys this summer as they have several NCAA level basketball players on their squad.